Install a whole house air filtration system to remove airborne particles. Do you suffer from sneezing and watery eyes? The air inside your home may be contributing to allergies. Did you know that over 40 pounds of dust bunnies accumulates in an average home in one year? The solution is an AccuClean™ Whole-Home Air Filtration System from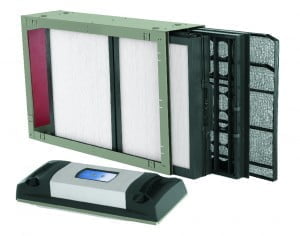 Dirty air
The air in your home can be two to five times dirtier than the outside air. The American Standard whole house filter removes up to 99.98% of airborne particles and allergens from the air. It is effective at catching particles down to .1 micron in size. In comparison, a human hair is 100 microns and pollen is typically 10-1000 microns.
More effective
Many of us are used to those fiberglass filters used in our return vents. Some people also use HEPA filtration systems in specific rooms of the house.  The AccuClean Whole-Home Air Filtration System is 100 times more effective than a standard fiberglass throwaway filter and eight times more effective than the best HEPA room air cleaner.
Let Ellis Heating & Air Conditioning custom design your heating, ventilation, and air conditioning system specifically to your needs. Contact us today!