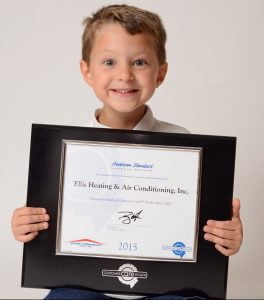 Ellis Heating and Air Conditioning is locally owned and operated out of Fuquay-Varina, North Carolina. We service the Raleigh and surrounding area including Cary, Holly Springs, and Fuquay-Varina.
Jarrod Ellis started Ellis Heating and Air Conditioning in 2004 having worked for several heating and air companies. He wanted to instill the quality and honesty that he is known for in his own business. After completing the Wake Tech Community College program, he took a job in the hottest place he could find, Miami FL, to sharpen his skills as a service technician.  
Memberships & Licenses
Apex Chamber of Commerce
Better Business Bureau with an A+ rating since 2005
American Standard Customer Care dealer with a 100% referral rate from our customers.
North Carolina State Contractors license.
Read some of our reviews from customers who will tell you how they appreciate our honesty and quality work.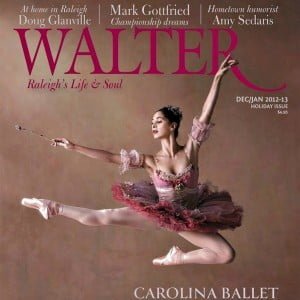 Supporter of the Arts
Married to Lilyan Vigo Ellis, ballet dancer for Carolina Ballet, and father two boys, Jarrod understands the need for honesty and commitment. He respects the environment and is a supporter of Arts and Music.
Heating & Cooling in My Own Home
People always ask me what I use in my own home. My first floor has the American Standard Gold 17 Heat Pump with a Variable Speed Air Handler. This system is 17 SEER and has a 2 Speed Compressor. The benefits are quieter airflow, less humidity and less temperature swings than the single speed systems. This model is modestly priced for ranch homes or first floor systems.
My second floor uses the American Standard Platinum 20 Variable Speed System. This system is 20 SEER and has a true variable speed compressor matched with a communicating TAM8 Variable Speed Air Handler. I've also "Zoned" the bonus room over the garage so when my out of town family comes to visit they have their own control over the temperature. What a difference that made. Also this system can be controlled by my phone. Some of the benefits to this system are less noise inside and out. I can hardly hear the outdoor unit when I'm standing right next to it. The indoor airflow is almost silent because it's usually running at a low speed all the time. I also installed this system at my mother-in-laws home. 
I also have an LG Mini Split that controls a sunroom and my third floor office. Life just would not be the same without them. The two rooms were uninhabitable when I moved here and now my wife says the sunroom is her favorite room of the house now. 
– Jarrod